Afternoon activities / Day Care Gan Jeladim, Jewish Community of Helsinki

View larger map
Address:
Malminkatu 26
00100 Helsinki
Telephone: +358 44 430 9594
E-mail: rebecca.hasenson@ganjeladim.fi

Opening hours:
Valid for the time being:
- Mon-Fri until 5pm


Other contact information:
Rebecca Hasenson
+358 44 430 9594
rebecca.hasenson@ganjeladim.fi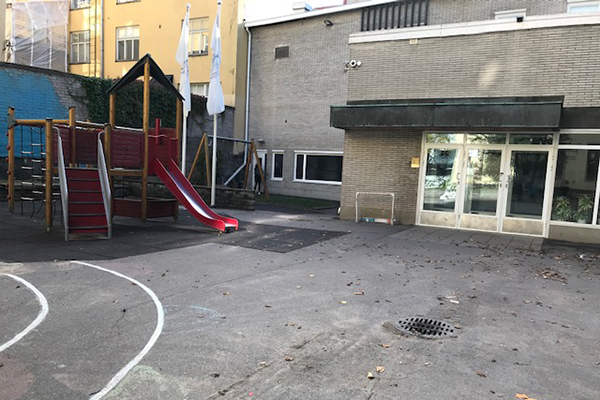 Accessibility
The route to the main entrance

The accessible parking space is located outdoors under 10 m from the entrance. The width of the parking space is at least 3.6 m.
The route to the entrance is guided, smooth and sufficiently wide and illuminated.
The main entrance

The entrance stands out clearly and is illuminated. There is a canopy above the entrance.
The doors connected to the entrance stand out clearly and the glass doors have contrast markings. Outside the door there is sufficient room for moving e.g. with a wheelchair. The door opens easily manually.
The foyer is cramped.
In the facility

The customer service point has 4 floors.
For moving around, there is a lift, which can hold a wheelchair; the door opens easily manually. The floor numbers in the lift cannot be felt with fingers. (The minimum dimensions for an accessible lift are width 1.1 m and depth 1.4 m.)
The facility has thresholds over 2 cm high.
The indoor walkways have a ramp under 6 m long, with handrails on one side.
The facility has a wheelchair lift.
The doors in the facility stand out clearly.
The facility has an accessible toilet on floor -2.
Suomeksi » | På svenska » | In English