Grounds for receiving a place in early childhood education
You can apply for a place for your child in municipal early childhood education at 1–3 locations. You should send the application four months before the start of care. There are four different options for early childhood education and care, and they are daycare centre, family daycare, group family daycare and evening/round-the-clock care.
We will try to offer a place at one of the locations requested or the nearest available location according to your need for early childhood education.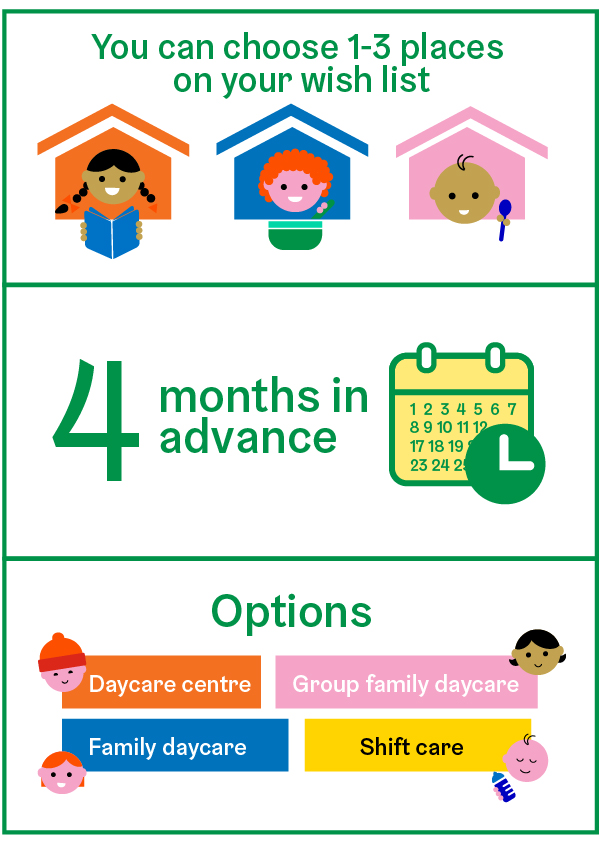 Grounds for granting a place if there are more applicants than places available
A place is primarily granted to children with a sibling attending the same daycare centre.
If the applicants have requested the same start date and meet the criteria on siblings, the place is given to the child who lives closest to the location according to HSL's route planner.
The place offered is also affected by the start date for the need of early childhood education.
Child-specific reasons, which may include the family's situation, a personal crisis, etc.
If the applicant has a need for support, the support will be offered at the child's early childhood education location whenever possible.
A place in early childhood education may be granted urgently for the following reasons: change in the guardian's employment, guardian starts studies, or the family moves to another city for work or studies. You must apply for a place at least two weeks before the need for care starts.
When applying for round-the-clock care, please present proof of needing this type of care (a document showing you work shifts).
The same grounds will apply if the family want the child to be transferred to another location after receiving a place in early childhood education.
25.01.2021 14:22